21 Sep 2018
"The AI market is only starting to improve these traditional industries..."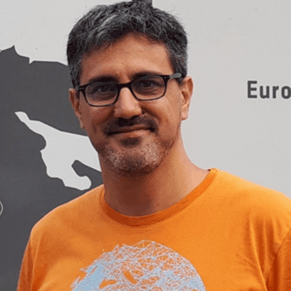 "As in other industrial sectors like the maritime industry, the space domain is required to complete the digitalisation process."
LSE Space GmbH's Mario Castro de Lera is however, reflecting on the old-fashioned methods of storing information. While digitalisation and AI grow apace, some businesses are still sticking with past traditions. "It is surprising the huge amount of information that big companies are still keeping on paper," says Mario. "The understanding of the systems involved and the structure of their data are one of the biggest capitals of companies." But for those sectors that have decided to transform their abstract knowledge into data, there are benefits. Mario explains that by recovering the history of their business and combining it with the investment in new ways of converting their systems into data, in the power of data processing and development of new predictive algorithms, businesses will already have a competitive advantage. "There are already companies making millions of euros by crunching the data it collects to optimise performance, anticipate breakdowns, and streamline maintenance."
Businesses should consider the use of Open Data (formats/protocols and content) where interoperability is a plus – as Mario explains this is mostly everywhere. "Annotate data to construct knowledge, digitalise everything. Be aware of information sensors. And use the data to build models from data, letting the data speak for itself. AI is then a smart composition of all the models for a specific operation."
In terms of competition in each of the business sectors, Mario says that those sectors born in the binary world are already one step forward as they are not suffering from the lack of digitalisation. "Their businesses are the usage of the data. It is easier for them to explore the new steps of the AI." But for space, maritime and other industries such as pharmaceutical and chemicals, AI has still a lot of margin.
"The AI market is only starting to improve these traditional industries."
Mario cites three major challenges posed by AI integration. "As we are still in the data-driven culture phase, we are having people using the data when being prepared for others to use it." The second challenge is to ensure that the utmost care is taken in ensuring data protection as a means of avoiding potential confusion. "We need to be careful and guarantee data protection to make sure peculiar identifiable inputs do not end up in machine learnt models." Mario adds that the final challenge of the three is mostly an acceptance and organisational one: "The cross-section teams of data scientists who work with domain knowledge people."
As Mario concludes, today is the data-driven culture phase. "We are mainly focused on the data. All our steps have been thinking on the understanding of those data." However, the next phase will be building models from data for everything systematically. "We are moving to the phase where the knowledge building won't be in our hands but in the machine. A future challenge will be to create new ways to understanding how our own AI is building its knowledge. It will be very beneficial to keep visibility on the way our business is evolving.
Get your free ticket to attend Mario Castro De Lera's speaking session now!