10 Oct 2022
Big Data & AI World 2022: The Proliferation of Edge AI with ABI Research's Lian Jye Su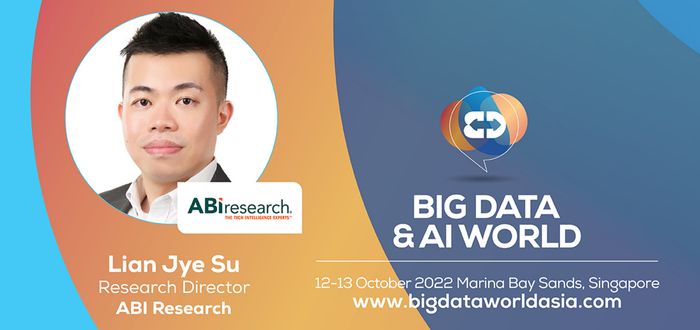 ABI Research's Lian Jye Su discusses the importance of organisational buy-in and how Edge AI can transform businesses. Get your free ticket to hear more from Lian Jye at Big Data & AI World Asia 2022 on 12-13 October.
Q: What do you feel is the biggest challenge or barrier for businesses looking to adopt AI technologies in the next year? What impacts does this challenge have? And how can we overcome this challenge?
The most significant barrier is the inability to accurately measure and quantify the Return on Investment (ROI) of AI. Failure to do so impedes the desire to invest in AI technologies. Therefore, it is paramount for AI solution providers to assist end users in communicating the benefits of AI
Q: Is there anything in the AI space that excites you with regard to its application for business, and why?
The emergence of large pre-trained language models and the multimodal AI technique allow developers to create AI with contextual awareness. These AI models can process and infer from various data sources, allowing them to perform tasks previously limited to human employees, such as customer care, patient diagnosis, and occupational health monitoring.
Q: Considering your session on Edge AI, what is the biggest opportunity or benefit of adopting this processing technology for businesses in APAC?
Most APAC businesses have yet to implement Edge AI in their operation. They are either not aware of the benefits or unfamiliar with the impact that Edge AI can bring to their business. Edge AI offers privacy-enhanced, data-based automation with minimal-to-zero cloud connectivity and ultra-low latency, allowing businesses to implement AI securely in a local environment.
Q: We are seeing many businesses across a variety of industries take an interest in AI. What philosophy or approach would you suggest businesses to take when applying these new technologies?
All decisions on AI have to be outcome driven. Start with business outcomes. Once a business understands the benefits that AI can bring to its daily operation, the adoption of AI will become evident and straightforward.
Q: What would be your biggest piece of advice for fellow technology leaders who are looking to or struggling to adopt AI technologies?
Organisational buy-in is critical. AI implementation should never be the goal of the senior management – the entire organisation must be fully committed. As such, leaders must present the idea through clear internal communication based on business outcomes.
Q: What do you feel is the value of in-person events like Big Data & AI World, and why would you encourage fellow business leaders to attend your session?
Nothing beats a good face-to-face interaction when it comes to exchanging ideas and building lasting connections, especially when almost every executive suffers from Zoom fatigue.
Lian Jye will lead a session on The Proliferation of Edge AI, as well as a panel session on How to Overcome Challenges in Operationalising Artificial Intelligence with experts from Siemens, MSD, and SAP Labs Singapore at Big Data & AI World Asia 2022.
Secure your free ticket to Big Data & AI World Asia at Marina Bay Sands on 12-13 October.