10 Oct 2022
Big Data & AI World 2022: Predictive Analytics In The Digital Healthcare Ecosystem with Hello Health's Sudesh Kumar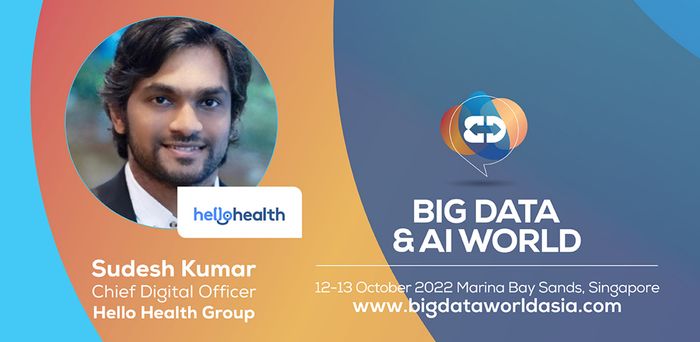 Hello Health Group's Sudesh Kumar, discusses the benefits of predictive analytics and data democratisation.
Get your free ticket
to hear more from Sudesh at Big Data & AI World Asia 2022 on 12-13 October.
Q: What do you feel is the biggest data challenge facing the healthcare industry within the next year? What impacts does this challenge have? And how can we overcome this challenge?
Recently, especially in Southeast Asia, data privacy and its limitation to data usage in some cases is the biggest challenge many healthcare industries are facing, and it will be an evolving challenge over the coming years. Early signs are quite visible, such as Google recently announced that over the next couple of years, they will be phasing out third-party cookies. On top of that, data regulations such as PDPA Thailand was recently enforced in June, and other PDPA's will be enforced over time, making data collection much more difficult for healthcare industries.
This challenge impacts a balance of data usage with data protection. Our data strategy has always been and will further evolve towards building trust with patient and customers as new data policies are enforced in the markets. Speaking of trust, a patient is likely to share very personal information with a doctor that they wouldn't share with others. This is critical to the trust between a patient and healthcare platforms to keep any health-related information confidential. Hence, with the right privacy policy, terms of use, and informing the users why we are collecting patients' information will build better trust between the patients and healthcare platforms.
At Hello Health, we overcome this challenge by incorporating data governance, security and quality monitoring systems into our data management platform. Technology is key to protecting confidential user information and minimising the risk of a breach or other unauthorised access to the users data. Our data management system is built in compliance with HIPAA, while streamlining the process of creating, managing, and collaborating on patients and consumers data.
Q: What is the biggest opportunity for your business and consumers when it comes to unlocking the full potential of data, and why?
At Hello Health, we serve 38 million monthly users and four million members across nine markets.
Hence with high volume of data collected, the better we can serve our consumers and patients with personalised experiences at the right moment of care. Ultimately, this can enable faster, better, and earlier decisions that benefits our users, healthcare providers and our partners. The potential of improved data management could be felt across our entire digital health ecosystem, including:
Consumer and Patient outcomes: When interacting with data-enabled health services, healthcare consumers and patients not only have better experience, but most importantly they also have better outcomes. Besides that, effective use of data sends a reassuring message to patients that the platform fits their needs, tracks their progress and maintaining their privacy which builds trust.

Frictionless journeys: Improved data practices allow greater sharing of data across various services and among different parties, provided the user allows shar*ing to different parties, on a user's healthcare journey. Continuity of care makes the experience more consistent and seamless for both our users and our partners.

Scalability: Secure data services are not limited by location or demographic only. Data-enabled healthcare allows us to reliably and confidently scale up and scale out, delivering services to people who may not otherwise have access to various other healthcare services. Everyone globally in some point of their lives will encounter a variety of different cases; either they're living as a patient or a caregiver. Hence democratisation of healthcare services leveraging data will support them when needed.
Q: How are you applying predictive analytics and automation to ensure a digital health ecosystem that works for you internally and for end-users?
Here's the most recent use case. At Hello Health, we provide our audience with medically reviewed, relevant, and engaging content, tools, and services that empower them to make more informed decisions throughout their health and wellness journey. A majority of our audience land on our platform to read pieces of content. As we look to connect the right service to our patients that lands on our content, we have built a data model that recommends the right doctors and services at the right placement within a content.
This model, in return, saves tons of resource time internally from manual recommendation, and at the same time, it connects to our patients to make an appointment. This is one of the many use cases we leverage predictive analytics and automation into our operations that also benefits our end-users.
Q: The ethos of Hello Health Group is to democratise health. What is your opinion on data democratisation and data accessibility, and how can this be achieved?
According to a survey conducted by Forrester, organisations collect a huge amount of data, but between 60% and 73% of all data within an enterprise goes unused for analytics. One way to resolve this is by democratizing data.
Data democratisation is the ongoing process of enabling everybody in an organisation, irrespective of their technical know-how, to work with data comfortably, to feel confident talking about it, and, as a result, make data-informed decisions and build customer experiences powered by data. This can be achieved in two simple steps:
1. Having the right tools and data products suited with the organisation and make data accessible to everyone. For businesses that wish to benefit from data democratisation, it is essential to invest in data integration and analysis tools that offer the same usability and performance to everyone from developers to the end-user with limited technical knowledge. These integration tools are necessary for the democratisation of data and analytics in an organisation.
2. Provide the right training to the organisation. Everyone in the organisation should be trained on how to best use the data, the importance of understanding data lineage, and how it can be transformed for analytics and business intelligence.
Q: What would be your biggest piece of advice for fellow Chief Digital Officers and tech leaders who are looking to adopt big data and AI technologies?
My biggest advice will be to pay close attention to the needs of your customers and understand how you can help them achieve their goals with data. This can help you improve customer experience who stick around and unlocks the metrics that matter most such as loyalty, retention, and growth, building a sustainable digital future. Here are the five simple steps you can start with:
1. Understand customer needs by looking at behavioral data or running a survey.
2. Forecast a one or two-year goal.
3. Based on historical and future forecasts, come up with a data strategy set up for success.
4. Once decided on a data strategy, plan out a framework and activate your data.
5. Continuously re-assess your data/AI strategy on a quarterly basis
Lastly, coming back to the second point, think for the long term before selecting the right big data and AI solutions, and have the flexibility to adapt to future changes and scale to meet new needs.
Q: What do you feel is the value of in-person events like Big Data & AI World, and why would you encourage fellow business leaders to attend your session?
Data events such as Big Data & AI World is your guide to the future of data management and how it is transforming the business world as we know it today. There are three key reasons why I believe you should attend:
1. There is a great line up of speakers and presenters. Besides my session on Predictive Analysis in Digital Health, there are hundreds of other forums that can provide you with great ideas and discuss how to leverage new techniques and technologies that are changing the economics and dynamics of big data.
2. Networking opportunities. Events brings together data experts from all corners of the data world, allowing you to connect with the best minds in the industry throughout the conference.
3. Stay ahead and up to date. Technology is constantly evolving, and nowhere is that more true than with data. Keep up to date with the latest solutions and learn how others are dealing with the current disruption. You might find solutions that can potentially save you tons of investment and drive 10x growth.
Secure your free ticket to Big Data & AI World Asia at Marina Bay Sands on 12-13 October.