25 Aug 2023
AI Meets Software Testing: Insights from Indeed's Mesut Durukal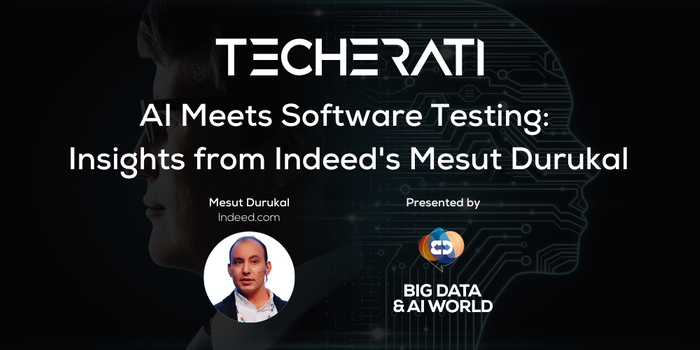 In this exclusive interview with Mesut Durukal presented by Techerati, he shares his motivations, strategies, and predictions for the future of software testing in relation to AI. As the Senior Quality Assurance Automation Engineer at Indeed.com, Mesut's career spans from industrial automation to the defence industry.
Mesut is set to speak at Big Data & AI World Asia on 11 October 2o23 at Marina Bay Sands, Singapore. Attendees can look forward to a focused discussion on the role of AI in software testing, delving into the practicalities of integrating machine learning and its impact on the testing life cycle.
Register your free ticket to Big Data & AI World Asia!
– – – – – –
Can you give us a brief tour of your career? What drove you to the fields of industrial automation, the defence industry, and most recently at Indeed?
After graduation, I started working in an institute in Turkey, which has a good reputation. I was excited to get the opportunity to participate in amazing projects.
After having a significant experience, I wanted to be involved in automation more. For this purpose, I changed my company to explore industrial automation and cloud-based IoT architectures. I got a chance to test microservices API and UI.
Finally, after getting an offer from Japan, I decided to complete my experience range by working abroad. Now, I am working for Indeed and trying to improve the quality of several web applications.
What drives you in your career? Is it technical satisfaction, making an impact, or perhaps something else?
In one word, it would be satisfaction. But how do I feel satisfied?
I should observe that I am making progress by learning something new and improving myself. In the meantime, what I learn would make sense if I can reflect them into an outcome and impact. Apart from all these, sometimes it depends on conditions like chasing a new challenge or relocation.
How do you ensure continuous learning, innovation, and adaptation to new changes and challenges in your career?
I am trying to track trends and latest initiatives embraced by the majority of the community. For this purpose, I am following influential leaders and participating in conferences like Big Data & AI World Asia.
What are some of your key strategies for success when it comes to automation and quality assurance?
Automation is an important part of quality assurance, but not all of it. Automation requires a strong technical background. You have to develop efficient, robust and maintainable code. There are too many programming languages, frameworks and libraries to use, so it is important to get yourself familiar with the majority of them and make the correct decisions to build automation.
In terms of quality assurance, I believe knowing the product very well is crucial. If you don't know what end users are expecting, you can't find improvement rooms.
What advancements in the world will impact the testing landscape within the next few years?
Like other fields, testing will also be impacted from machine learning advancements. Everything providing a faster and less costly solution is worth trying to adapt in testing.
In addition to ML, other automated processes like generating tests from the product code or self-healing techniques will be important candidates for the next generation improvements.
What are your opinions on 'Testing as a Service'? How do you envision this changing the way businesses approach software testing?
The idea is serving other people by providing them built-in solutions. Instead of developing from scratch, maintenance and fixing issues, preferring Testing as a Service is a strong alternative.
Everything makes perfect sense, but the biggest challenge is achieving the objectives by external resources. Even within the same company, there might be silos between development and testing teams. So, if the connection between developers and the providers of TaaS is built successfully, it would be a good option to avoid duplicated effort.
What advice would you share to budding software testers or those delving into automation and AI?
More than knowing a lot, being open to learning is more important. Nowadays, technology is growing too fast. Learning never ends. Even if we know certain technologies for now, they may be replaced by different options in the future. So, we should always be open to the new, and be tracking what to learn or investigate.
Besides, there is no world where information comes to you naturally. You should be proactive and seek it.
Your session at Big Data & AI World Asia is about leveraging AI in software testing. Can you give us a sneak peek into what you will discuss and why it is important to consider?
Again, providing solutions with a minimum effort and in the smallest time is the key success criteria. Integrating ML into software testing is a way to achieve it. So, we will see how we can perform the software testing activities with less effort and in a faster way with the help of ML algorithms.
Some examples are defining test cases, developing test code, and analysing test execution results by ML.
What key takeaways or discussion points do you hope to impart at Big Data & AI World Asia, and why would you encourage fellow leaders to secure their free ticket?
I will highlight leveraging ML in all stages of the software testing life cycle to improve quality in a more efficient way. Audiences may expect to see how we can define test suites, implement automation, decide prioritisation, and manage bugs with classification or clustering machine learning algorithms.
Register your free ticket to Big Data & AI World Asia! Register for the Techerati Newsletter