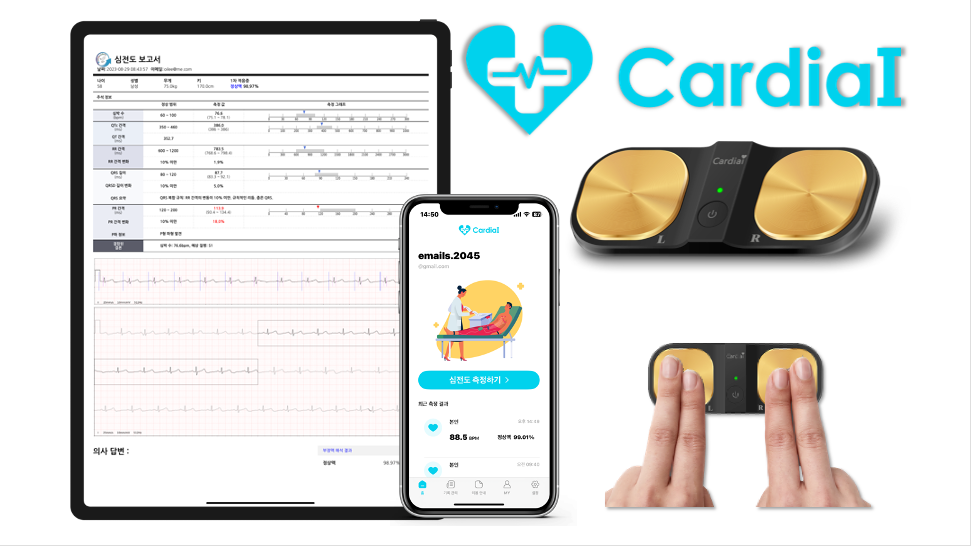 MediFarmSoft, the AI technology-based company leads the Digital Healthcare Market!
MediFarmSoft, founded in 2018, is a specialized company that develops and provides intelligent biometric information analysis platforms based on the convergence of medical devices and IT technology.
The CAI-100, a personal electrocardiogram (ECG) self-diagnostic device developed in 2021, applies an AI interpretation algorithm to provide fast and accurate ECG analysis results. It enables not only medical institutions and heart disease patients but also the general public to easily perform ECG tests anytime, anywhere. The test results can be monitored in real-time through a mobile application and WEB-Viewer software, and the revolutionary product allows medical professionals to remotely access and diagnose data collected during examinations.
Additionally, we have launched the CardiaI Windows product to offer ECG interpretation services in areas with unstable internet connectivity or where the security of personal medical information is crucial. The CardiaI Windows product consists of a laptop computer, CAI-100 ECG device, AI-based ECG analysis software, and a security key. With CardiaI Windows, we encourage monitoring patients' cardiac conditions accurately and swiftly, even in challenging environments.
Furthermore, MediFamSoft plans to offer opportunities for early detection and treatment of arrhythmias in heart disease patients through the development of the 6-Lead Holter Monitor (CardiaI Patch, CAI-300) and an AI-based prediction system for atrial fibrillation called PAPS(Predict AFib, Prevent Stroke).
In the future, MediFamSoft will continue to strive tirelessly for the development and advancement of biometric analysis medical devices and IT software. We are committed to becoming a leading company in the field of AI-based biometric information analysis platforms, contributing to the creation of a healthy society.
Address
H Business Park
B-906
Beobwon-ro 11gil 25
Seoul
05836
Korea, Republic of