10 Oct 2023
USER drives a new era of UX by enhancing Usability Testing and Data Analytics with AI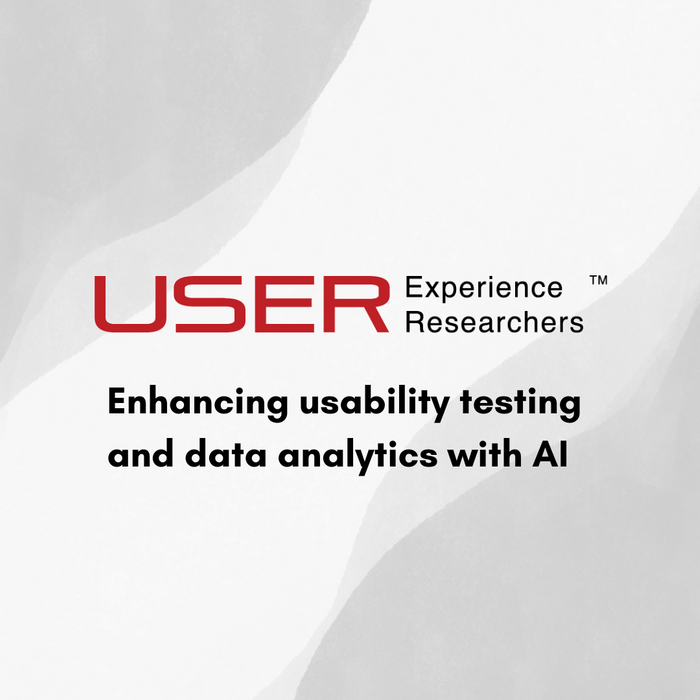 SINGAPORE, Singapore – Leading user experience (UX) technology and innovations firm, User Experience Researchers Pte Ltd (USER), is blazing the path for organisations to leverage on artificial intelligence (AI)-powered innovations for usability testing, data analytics, big data, and improving operations to increase user satisfaction.
"Improving UX is a key factor in optimising information especially in large organisations. What shapes a product to its best iteration are satisfying both users and product owners and bringing the most benefits to them. By enhancing the collection and analysis of data, and generating meaningful insights, designers can improve products to deliver a productive, satisfactory experience," said Dr. Frank Qiu, CEO of USER.
Next-generation usability testing
Boosting user satisfaction from products and services can be made easier through effective usability testing. Through methodical evaluation, organisations and businesses can gauge how to improve their product's ease of use, address user pain points, and continuously improve performance.
USER's data-driven approach to usability testing combines the latest innovations in AI, research techniques, and tools that can ensure comprehensive collection of data and accurate interpretation for insights.
Its headquarters in Singapore is equipped with different devices and software optimised for collecting data for various kinds of usability tests. Some of USER's testing capabilities include scanning brainwave patterns, eye tracking, heatmaps, and other sensor-based facilities to passively collect information.
Automated Analysis and Insights
Organisations also have an ever-growing problem utilising big data when breaking it down into meaningful processed information. Information can be processed using USER's in-depth automated data analytics, giving stakeholders more agility in viewing trends and projections to make effective decisions.
"USER's latest data analytics products integrate the capabilities of AI to further drive business agility. This allows decision-makers to anticipate, plan, and tailor-fit products for maximum impact, usage, and productivity with ease. When products deliver with satisfactory user experiences, it fosters brand loyalty, improves reputation, and opens up opportunities that businesses can explore," says Dr. Qiu.
About USER Experience Researchers Pte. Ltd.
USER is a leading UX-focused company specialising in digital transformation consultancy, enterprise solutions, and resource augmentation. We have a steadfast commitment to innovating the best of today's technology to promote sustainable growth for businesses and industries.
See us on Tech Week Singapore on October 11-12, 2023, at Booth N57, Big Data World Asia at the Marina Bay Sands.