19 Jul 2022
Transwarp won the first prize of "science and technology award of Shanghai Computer Society"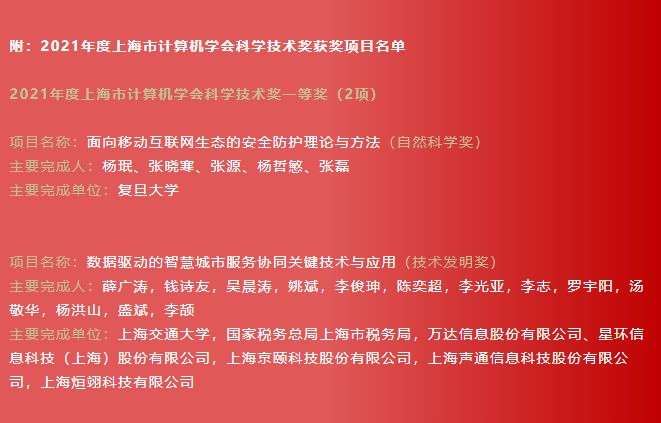 Recently, the Shanghai Computer Society announced the results of the "2021 Shanghai computer society science and Technology Award". The project of "key technologies and applications of data-driven smart city service collaboration" participated by Transwarp won the first prize of the science and technology award.
The "science and technology award of Shanghai Computer Society" aims to encourage outstanding achievements with important discoveries, inventions and original innovations in the field of computer science, technology or engineering, and certain international influence in related fields. As an important member of the project team, Tranmswarp has made important contributions to the project by relying on its product and technical advantages in the whole life cycle of data, such as data integration, storage, governance, modeling, analysis, mining and circulation.
At present, the state attaches great importance to promoting the modernization of governance system and governance capacity with informatization, and emphasizes the need to accelerate the promotion of e-government, break through information barriers, and build an integrated online service platform for the whole process. It has become a major challenge to build a smart city service collaboration system for urban service-oriented trusted data collection, high-speed and reliable storage access and efficient service interaction. Transwarp is committed to building enterprise level big data basic software. By building a digital base for digital transformation for all walks of life, it is continuously enabling the upgrading of social industries and boosting the modernization of social governance system and governance capacity.