22 Aug 2022
Denodo is a Leader for the Third Year in a Row in the 2022 Gartner® Magic Quadrant™ for Data Integration Tools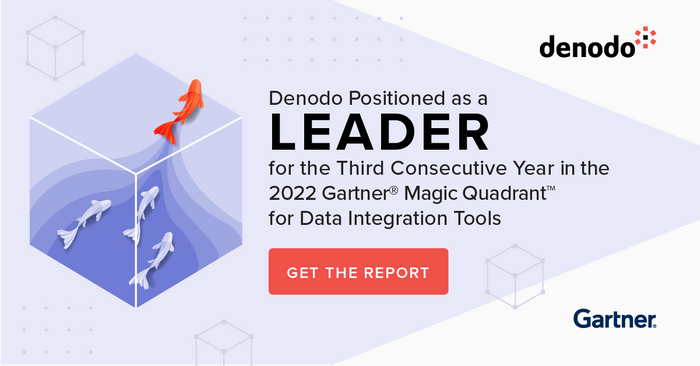 Data Integration and Management provider evaluated based on its Ability to Execute and Completeness of Vision
Palo Alto, CA, August 22, 2022 - Denodo, a leader in data management, today announced that Gartner® has once again positioned the Company as a Leader in its 2022 Magic Quadrant for Data Integration Tools. The report stated, "The data integration tools market is seeing renewed momentum driven by requirements for multicloud and hybrid data integration and data fabric design patterns. Data and analytics leaders should use this research to evaluate suitable vendors for their existing and upcoming data integration use cases."
The complete and complementary Magic Quadrant report, published on August 17, 2022 and authored by Ehtisham Zaidi et al., is available here.
While Denodo customers deploy the Denodo Platform for popular use cases such as data engineering, cloud data integration and API services, data fabric and data mesh architectures have been very popular with Denodo customers. The report states that, "Through 2024, manual data integration tasks will be reduced by up to 50% through the adoption of data fabric design patterns that support augmented data integration."
Denodo Platform, a data integration, management and delivery platform, is powered by data virtualization technology, which, according to the report, is one of the core capabilities of data integration tools. Data virtualization connects to the data irrespective of its location, format, and latency, virtually integrates the data that has been collected in disparate repositories, and rapidly delivers it to the applications for consumption by business users. In the report, Gartner states, "The market has realized that those data integration tools that do not balance 'collect'- with 'connect'- based data management architectures will always result in data silos and/or poorly integrated infrastructures." In addition to data virtualization, the Denodo Platform supports other core capabilities such as data movement topology, stream data integration, API services, complex data transformation, augmented data integration, data preparation and integration portability.
"I am thrilled to see Denodo being recognized as a Leader in the Gartner Magic Quadrant report for the third year in a row," said Ravi Shankar, senior vice president and chief marketing officer at Denodo. "The Denodo Platform enables a modern logical approach to data integration, management, and delivery, offering key capabilities including data abstraction layer, AI-enabled smart query acceleration for complex analytical workloads, integrated AI/ML-enabled data catalog, and automated cloud infrastructure management. Denodo was recognized as a Customers' Choice in the 2022 Gartner Peer Insights "Voice of the Customer": Data Integration Tools. We are excited to see large and medium-sized organizations use the Denodo Platform to manage their enterprise-wide data landscape using distributed architectures and approaches such as data fabric and data mesh."
To learn what Denodo customers are saying about their experience with the Denodo Platform, check out Gartner Peer Insights.
Read Full Report here - https://denodo.link/3BCS3tQ