07 Oct 2019
City Planning With Light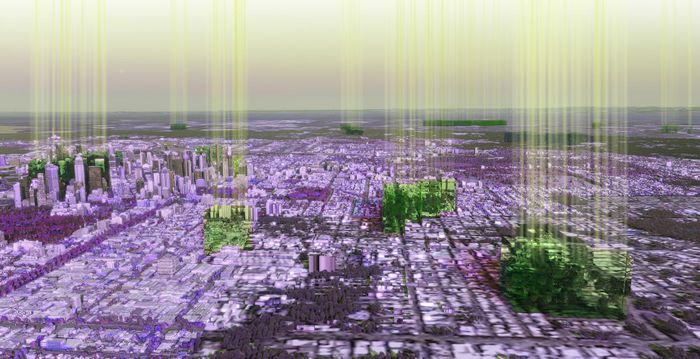 Office of Planetary Observations are very excited to be part of the Victorian Government trade mission, attending Big Data World in Singapore on the 9th & 10th October.
A newly formed company based out of Melbourne, Australia, with recent years of innovation behind us. We are looking to share our approach to supplying frequent satellite analysis of environmental variables for city planning purposes. Observing the Earth from space via satellite can inform government policies, city planning and the built environment towards benefiting our collective 'green infrastructure' (nature) – the challenge of our age.
In a golden era of satellites, we map environmental variables every five days at 10m resolution to inform government decisions, industry, city planning & individual actions. Policies such as climate change adaptation reports, urban forest strategies or greening strategies can now be underpinned by frequent benchmarking data sets or time series analysis. This means analysis of environmental variables up to seventy times a year showing trends & patterns across our cities previously unseen. Typically big data sets have been achieved at high cost, once every four years to inform decision making. We supply easy to access, low cost analysis – every five days. We have supplied data sets for local councils particular to Urban
Green Infrastructure Reviews and Greening Strategies for city planning purposes.
Nature is dynamic and ever changing. Therefore satellite time series analysis of environmental variables can change our relationship with nature towards one of benefiting environmental systems. Whilst also increasing a cities liveability. In this way Office of Planetary Observations approach to city planning with frequent satellite analysis provides a way towards creating a truly smart city. One which understands it's environment frequently and responds accordingly. We are excited to take part in Singapore's Big Data World and sharing our approach towards living within nature via big nature data.
See below link for example of five daily analysis of vegetation cover over the City of Moreland in Melbourne, Australia. Or come see us speak at 12.10pm, 10th October at the Internet of Things Keynote Theatre whilst we're at Big Data World.
https://youtu.be/jB_o2GEOHmQ
For further media information, please contact: Founder | Director Thomas Gooch, thomas@OPObservations.com, +61409400641