04 Sep 2019
Austrade introduces 3 startups in its 9th cohort in Singapore, getting ready for Southeast Asia expansion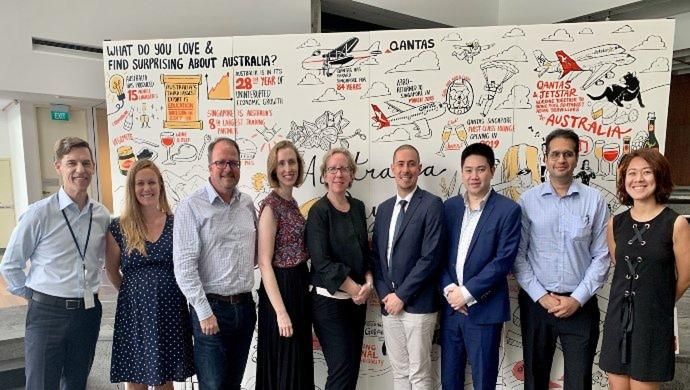 The Australian Trade and Investment Commission (Austrade) announces the ninth cohort its Australian Landing Pad in Singapore. It seeks to recreate the success of the pad in graduating 38 startups, with 92 per cent of them are now doing business in Indonesia, Malaysia, the Philippines, Singapore, and Vietnam.
The Australian Landing Pad in Singapore aims to bring scaleup opportunities to startups; in which it prided itself in bringing its startups to receive over A$25 million (US$17 million) in follow-on funding.
The latest batch of startups includes these names:
Coevolve, a startup that helps enterprises and channel partners adopt next-generation network technologies. It said that it had deployed its solutions in more than 50 countries across six continents.
CTARS, an out-of-home patient care platform founded by clinicians and consultants, which claims to have its software implemented in over 40 organisations across Australia.
PI.Exchange, a deep-tech startup that builds and operates scalable artificial intelligence and machine learning (AI/ML) applications in a cost-effective way.
Taliessin Reaburn, Senior Trade and Investment Commissioner, Austrade Singapore said, "The Landing Pad program is accelerating Australian entrepreneurs' entry and success in the region. The 90-day program has a proven record in allowing startups to navigate Southeast Asia's business environment, learning about its opportunities as well as its different cultural and economic nuances."
Some success stories from the Landing Pad in the past includes Codebots, a startup that enables organisations to transform their legacy systems for continuous modernisation digitally. It has raised Series A funding at A$1.4 million (US$950,000) and currently has partners in Indonesia, Thailand, and Singapore as part of their ASEAN expansion plan.
Another one is CEC Systems, a startup that creates a semi-automatic container that has also expanded regionally with a team in Singapore and a production facility in Vietnam. Edtech startup Global Study Partners also managed to sign up at least five new education institutions in Southeast Asia during their stint at the Landing Pad.
The Australian Trade and Investment Commission (Austrade) is the Australian Government's international trade promotion and investment attraction agency.
The Landing Pad program provides market-ready startups and scaleup with potential for growth a cost effective option to land and expand into global innovation hubs around the world such as San Francisco, Tel Aviv, Shanghai, Berlin, and Singapore. The Landing Pad in Singapore operates out of JustCo at UIC Building.
For 90 days, Landing Pad participants have opportunities to collaborate with JustCo members and access their global spaces during the program period. They will also receive support from Austrade's network to provide one-on-one business development assistance.
The program stated that it doesn't target any specific sector but has seen a high number of cybersecurity, edtech, medtech, and logistics startups land in Singapore.